Step 2 of 3.. Artichoke Diet Pills - The Original GN+Vida Artichoke Pills Accept NO Immitations! Buy All 3 Steps of the Complete Artichoke Diet with Free Shipping: CLICK HERE

Natural Artichoke Diet Pills for Men & Women SAVE MORE WHEN YOU BUY MORE, SEE DISCOUNTS ON TOP - Simply add More than 1 Bottle to your Cart and the Price Drops Instantly!
For Wholesale Purchases add 30 or More Bottles and Pay just $13.75 a Piece with FREE SHIPPING!
Artichoke Diet Capsules from Alcachofivida by GN + Vida (grupo nutrivida) are "the" Original Artichoke Pills made by the company that started it all GN+Vida with their New Look to the Box and the latest formula that allows them to be used In Conjunction with the Artichoke Vials And Tea for the Best Weight Loss Results or by themselves as part of your Weight-Maintenance program. The Artichoke Pills are Step 2 of 3 in the Complete Artichoke Diet when it is part of your Goal and Healthy to Keep loosing Weight. When you are ready to stop and maintain your weight, you can use the Artichoke Capsules by themselves for all the other wonderful benefits! Alcachofivida Pills are a wonderful Dietary Supplement to help assist you in your Weight control efforts as part of a Healthy Diet and Lifestyle. Each bottle of capsules contains 30 pills per bottle and the Recommended dose is one pill per day. Therefore each bottle may represent up to a Month's supply of Artichoke Pills! Remember for Maximum Weight Loss Results use the Artichoke Diet Express Kit.
Ingredients:
Extract of Artichoke, Fennel, Apple Vinegar, Vitamin B-6, Vitamin B-12, Vitamin C, Vitamin D3.
How to Use:
For Adults 18 years old and over:
Take
1 capsule
per day in the morning. Store in a cool dry place. Keep out of reach of children. Remember that the Artichoke Capsules may be used by themselves or TOGETHER with Other Artichoke Diet Products to Maximize Results. View the Different ARTICHOKE KITS for Helpful suggestions on how to best combine these products.

Very Important! Remember to drink plenty of water when using the Artichoke Diet capsules! Take at least half a GALLON per day of water if you are not very active or sweating often. If you are engaging in strenous physical activity please remember to drink more water.
Buy More and Save... Get Additional Discounts for Buying MORE than 2 Units!

Don't Accept Imitations: Use the #1 Brand, the Most Used and the First & Original from Mexico by GN+Vida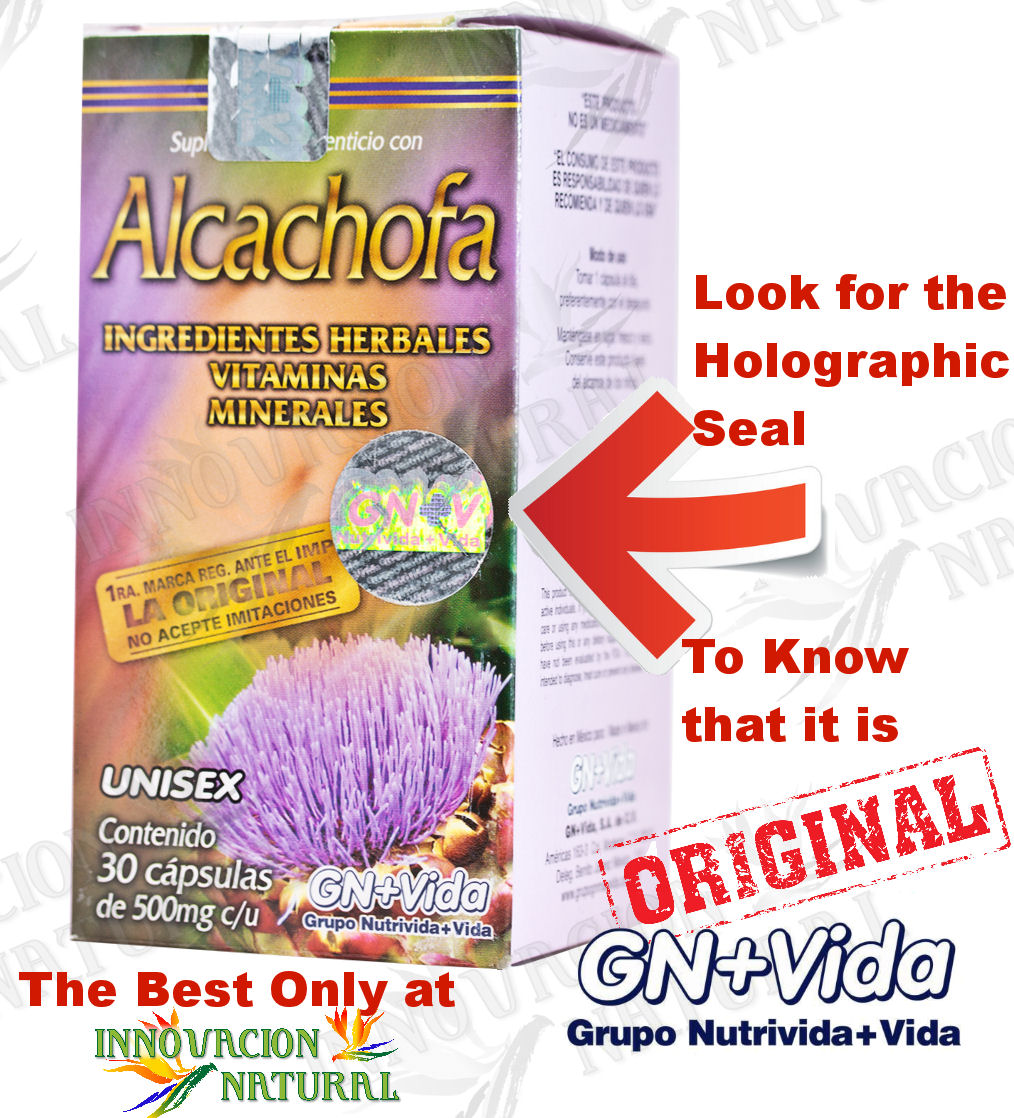 Disclaimers:
This product is NOT a medication, it is not intended to treat, diagnose or cure any disease. The statements made about effects or potential benefits of the product are opinions only and have not been evaluated by the FDA. This product should not be used to treat or cure any disease and it should not be used to replace the advice or treatment option of a trained physician. This is intended to be used by healthy adults. If you are pregnant or lactating DO NOT use this product. If you are under medical care or taking prescription medications, consult your doctor before using this or any other supplement. The use of this product is the responsibility of the individuals using it and Natural Innovations is not responsible for the inappropriate, unintended use of this or any other product. Individual Results may vary.